Underwater Photography
The Image is Everything
When we started making a list of topics we wanted to cover for the Ocean Connect website, we made notes of which areas were going to be somewhat of a chore and which we thought would be easy. Photography was one topic that we all agreed would fall into the "easy" column. There are just two things that turned out to be wrong with that assumption. First, with a sophisticated camera on every smartphone, we have all become experienced photographers, paparazzi, and photojournalists. That makes it extremely difficult for us to tell you something you don't already know about how to take pictures. Second, photography is such a broad topic that even writing a basic introduction would require pages and pages of information. After all, to give photography its full due, we would need to cover portrait, fashion, abstract, fine art, black and white, still-life, aerial, drone, sports, editorial, architectural, scientific, biomedical, event, travel, wedding, commercial, pet, documentary, wildlife, nature, and underwater photography. That doesn't even begin to address the different types of photographic mediums (film, digital) or the different kinds of specialized equipment you would need for each genre of photography.
General Photography
Given the above challenges and the obvious focus of Ocean Connect, we decided it would be best to concentrate primarily on underwater photography.  But before we dive into underwater photography (get it?), a word or two about photography in general is in order. As you can see, there are a tremendous number of photography areas you can pursue as a hobby, artistic endeavor, or professional career.  Fortunately, there are also a tremendous number of available resources – books, websites, videos, magazines, and online photography courses – geared to differing abilities, interests, and goals. Selfishly, we encourage you to go out and become a master of ocean photography so we can use your photos on the Ocean Connect website. But if that doesn't interest you, then we look forward to seeing your work in the Museum of Modern Art or displayed on the pages of any number of well-known fine art, fashion or wildlife magazines. The point is that just because we decided to focus on underwater photography does not mean there aren't hundreds of unique and rewarding ways for you to connect to the ocean through your interest in some other area of photography.
Underwater Photography
No doubt, underwater photography is an exhilarating and fun experience. When most people think of underwater photographers, they picture someone in full scuba gear treading water in the ocean's depths (usually among sharks or the wreckage of a ship). And while this is indeed the most common method for capturing underwater images, you can also engage in underwater photography while snorkeling or swimming. You can even take pictures from the (cramped) comfort of a submersible vehicle or use a remotely operated vehicle to take photos while you manage the controls from the ocean surface.  
Underwater photography can be pursued for scientific reasons, commercial purposes, or purely for the sake of art. Underwater photography is useful when scientists need to examine objects on the ocean floor over time. Underwater photos can also help identify species and observe their behavior without removing them from the water. Interestingly, citizen scientists with aquatic photography skills now play a vital role in recording environmental changes, collecting information about invasive species, and monitoring ocean conservation efforts. Because professional scientists cannot spend nearly the same amount of time out in the field as can the sum total of all recreational underwater photographers, the use of citizen scientists to provide actionable information has become invaluable. Commercial underwater photography can range from taking photos of underwater structures and equipment to record their condition to capturing underwater images of fish, coral, turtles, cave systems, shipwrecks, and aquascapes that can be used for commercial, editorial, or advertising purposes.  Artistic underwater photography can be pretty much anything you want it to be and is limited only by your imagination. Just do a search of the topic, and you will see a wide variety of subjects and styles. Some photos sell for dollars on Etsy, and others for tens of thousands of dollars on the websites of prestigious fine art galleries throughout the world. 
The Essentials
Most people interested in underwater photography usually start with a mobile phone in a plastic pouch, GoPro, or a compact underwater camera. In fact, you can buy a waterproof casing for your iPhone for less than $20.  But if you are going to pursue underwater photography on a professional level (or even a mildly serious amateur level), it will require some very specialized and expensive equipment. Basic underwater equipment includes the camera, camera housing, and lighting. Before making such an investment, we highly recommend seeking advice from the sales staff at a store that sells professional photography equipment (preferably more than one so you get a more complete picture). While understanding that they make their living from selling things to you, they are a terrific source of information about the strengths and weaknesses of certain types of equipment and particular brands. We have found that the people who work at professional photography stores are much like those who work at bike shops or music stores – their passion for the subject is far greater than their desire to make a sale. They can also direct you to resources that can further your learning, as well as underwater photography expeditions that you can join.
Though you can take pictures while snorkeling or swimming for recreational purposes, to be any kind of serious underwater photographer, you must perfect your diving skills. We read that it takes about 400 dives before you are ready to tackle the challenges of underwater photography on an advanced level. You need to have excellent physical coordination, learn how to control your body positioning underwater, and keep your breathing controlled and relaxed. Underwater buoyancy is one of the most difficult dive skills to master. You can have the best equipment in the world, but if you cannot maintain your position in the water column, then you will not be able to capture the images you want. You must also be meticulous in your preparation and adhere to basic dive safety procedures. It is easy to become so absorbed in getting the "right" shot that you forget to monitor your depth and gas supply. When planning your dive, you must be aware of water clarity, the sea floor, currents, waves, and dangerous marine life. And most importantly, you cannot harm or stress marine life or damage the underwater environment. Divers have been held legally responsible for the damage they have caused to coral reefs or other marine habitats.

The Path to Becoming an Underwater Photographer
From High School to Your First Job
Build a Solid Academic Foundation
Try and take as many photography classes as possible, as it is important to develop an understanding of the medium. In addition, take different types of art classes – visual arts, painting, and art history – so that you are well-versed in artistic concepts and theory.
If not available at your high school, try taking photography courses (fundamentals of digital photography, Photoshop, image editing, lighting, composition, fine art, nature, and wildlife) and ocean science-related courses (marine biology, oceanography, marine conservation) offered online.
Obtain your SCUBA certificate and try and get fieldwork experience. Learn how to write for a scientific and non-scientific audience. The ability to communicate clearly in writing cannot be overstated. Given that you may need to travel abroad for your work, you should become fluent in a foreign language.
Dive In!
And become an expert
Get a

jump on your Academic career
There's no substitute for experience.
We have compiled a database of thousands of internships, research opportunities, academic programs and specialized training programs so you can get a jump on your academic career.
Internships
Research
Academic Training Programs
And if you need support to fulfill your dreams and ambitions, our searchable database has plenty of scholarship opportunities as well as programs designed to increase diversity.
Scholarships
Diversity, Equity & Inclusion
Need Help Finding Your Opportunity?
Our video tutorials explain the ins and outs of landing a great internship, research project or training program.
Make all the right moves
Advice from those who know
First develop excellent "dry land" photography skills
Build an underwater photo portfolio
Obtain advanced certification in SCUBA
Master buoyancy to ensure clear images
Learn boating safety and first aid
Participate in photography competitions
Build experience through internships
What degree is right for you?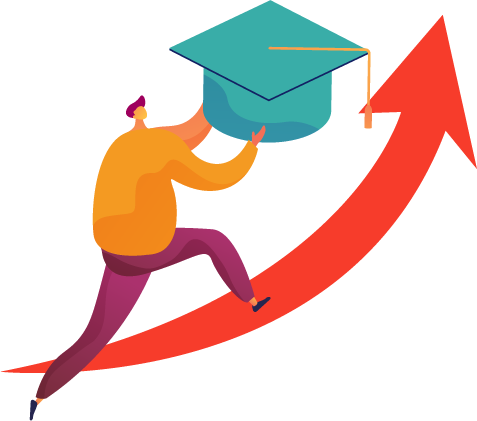 Undergraduate Degree
There is no degree requirement to pursue a career in underwater photography. However, an undergraduate program in photography will help you hone your photographic technique. Underwater photography can also be combined with other ocean-related career choices like marine biology, oceanography, and marine archaeology – all of which require at least an undergraduate degree.
Graduate Degree
A graduate degree is only required if you want to make your career in underwater photography a supplement to one of the ocean-related sciences (marine biology, oceanography, marine archaeology) or advocacy pursuits (marine conservation, environmental protection). If that is the case, you should view the degree suggestions for that particular snapshot to better understand the requirements.  
10 Schools With Excellent Underwater Photography Programs
Want to see the full list of colleges and universities with degree offerings or relevant courses?
See the full list


Tip 1
Most underwater photographers gain training through internships or entry-level positions in the field. Internships allow you to obtain hands-on experience while also making important connections with industry professionals.

Tip 2
You need to master two entirely different skill sets – photography and scuba diving. But between the two, your scuba diving skills are by far the most important. Once you are a confident diver, you can focus on photography and advance your career.

Tip 3
Give yourself more options by combining underwater photography with other careers like marine biology, marine conservation, oceanography, marine archaeology, ecology, aquatic animal science, or environmental protection.
Have familiarity with one or more of the
following areas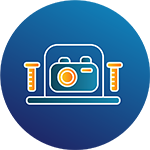 Cameras, housing, and lighting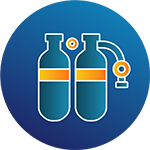 Scuba diving safety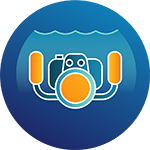 Underwater photography and imagery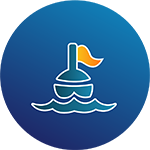 Oceanography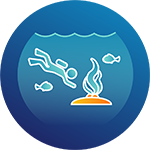 Scuba diving master certification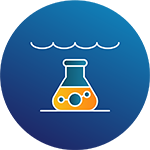 Marine Biology
Ship navigation and safety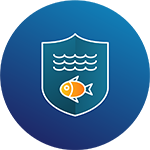 Marine Conservation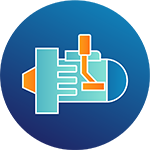 Remotely operated vehicles
Photography editing software
Typical Job Functions of an Underwater Photographer
Here are some of the interesting things you could be doing.
Taking pictures of shipwrecks, fish, plants, coral reefs, and other underwater objects.
Diving in various conditions, including tropical waters or ice-cold seas.
Conducting research on marine ecosystems.
Exploring new diving locations and taking photographs of marine life and plants.
Guiding recreational divers in underwater environments using diving equipment and knowledge of local marine life.
Inspecting boats and equipment to ensure they are safe to use.
Supporting marine conservation efforts by documenting biodiversity changes.
Cutting and editing film.
There's an Ocean of Possibilities
Underwater photography can be a fascinating, fun, and rewarding career. It will also certainly set you apart from the crowd. However, it is not a very lucrative or secure career path, except for a select few. Most underwater photographers in the private sector work on a freelance basis. Usually, underwater photographers have to supplement their income through related businesses, from selling equipment and cameras to being guides or instructors. That's why we suggest combining it with one of the marine sciences or areas of commerce or advocacy that are ocean-related.
Common employers include:
Federal Government Agencies
S. Environmental Protection Agency
National Oceanic and Atmospheric Administration
National Science Foundation
Natural Resources Conservation Service
State Government Agencies
Environmental Protection
Fish and Wildlife
Military
Private Industry
Magazines
Television
Other Publications
Salvage Companies
Start your career search with our extensive list of employment websites.