Ocean Engineering
Creating the Tools for Ocean Discovery
Ocean engineers are responsible for designing, building, and testing instrumentation and equipment that can withstand the harsh conditions of the ocean environment.[1] It is a multidisciplinary field that combines mechanical, electrical, civil, acoustical, and chemical engineering elements with oceanography and other marine sciences.[2] Ocean engineering is a vital link between all the various branches of oceanography (geological, chemical, and physical) and marine sciences (marine biology, marine microbiology, coastal and estuarine science).[3] It also plays a vital role in the energy (both oil and gas and renewable), military, marine navigation, environmental protection, pollution, and waste disposal sectors.
Innovations in instrumentation and research equipment design made by ocean engineers have significantly advanced the field of oceanography by enabling oceanographers to push the limits of exploration into more remote and deeper parts of the ocean. These innovations have contributed to significant oceanographic discoveries, including deep-sea hydrothermal vents, ocean volcanoes, underwater mountain chains, previously unknown species, and various biological, chemical, geographical, and physical processes.[4] However, ocean engineering is not a branch of oceanography itself, as oceanography is concerned with the natural aspects of the ocean, while ocean engineering is concerned with the design and operations of artificial systems in the ocean.[5]
Naval Architecture and Marine Engineering
Although closely related, ocean engineering should not be confused with naval architecture or marine (sometimes called "naval") engineering. Naval architecture involves the art and science of designing boats and ships to perform the missions and to meet the requirements laid down by the prospective owners and operators. [6] Marine engineering involves constructing and maintaining any floating structure that moves under its own power.[7] Simply put, naval architects design the vessels, and marine engineers create the systems that bring the vessels to life. And while ocean engineers are often required to carry out their job functions at sea on ships, rigs, or submersibles in sometimes hazardous conditions, naval architects, in contrast, spend most of their time on dry land.
Coastal Engineering
One area of ocean engineering that is gaining attention these days due to climate change and the resulting rise in sea levels and storm intensity is coastal engineering. Coastal engineers are responsible for designing, constructing, and maintaining coastal structures. Their objectives include "management of shoreline erosion; improvement of navigation channels and harbors; protection against flooding brought on by storms, tides, and even seismically triggered waves (tsunamis); improvement of coastal recreation; and management of pollution in nearby marine environments."[8] As both the near-term and long-term effects of climate change become more pronounced, the need for coastal engineers to develop viable long-term solutions will increase as well.
…
Citations

The Path to Becoming an Ocean Engineer
From High School to Your First Job
Build a Solid Academic Foundation
Take all available STEM-related courses (biology, physics, chemistry, computer science, mathematics) offered at your high school. Take all these classes at the most advanced level possible (honors, AP). This will help you to learn to think critically, problem-solve and build your knowledge base.
If not available at your high school, try and take physics-related (geophysics, hydrodynamics, wave mechanics, acoustics), ocean science-related (marine biology, marine microbiology, oceanography, hydrology), and computer design and computer manufacturing (CAD/CAM) classes offered online.
Get work experience through a research internship. Learn how to write for both a technical and non-technical audience. Experience with both oral and written scientific and technical communication is equally important. Spend time learning the basics and the more complex concepts will follow naturally.
Dive In!
And become an expert
Get a

jump on your Academic career
There's no substitute for experience.
We have compiled a database of thousands of internships, research opportunities, academic programs and specialized training programs so you can get a jump on your academic career.
Internships
Research
Academic Training Programs
And if you need support to fulfill your dreams and ambitions, our searchable database has plenty of scholarship opportunities as well as programs designed to increase diversity.
Scholarships
Diversity, Equity & Inclusion
Need Help Finding Your Opportunity?
Our video tutorials explain the ins and outs of landing a great internship, research project or training program.
Make all the right moves
Advice from those who know
Maintain an excellent GPA, especially in the sciences
Have work experience on your resume
Attend professional conferences and engineering seminars
Present your research at student research colloquiums
Participate in robotics and engineering competitions
Build experience through internships in private industry or government
Have all required licenses, certifications, and registrations
What degree is right for you?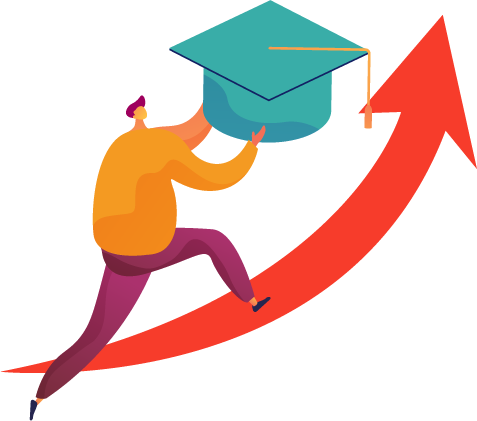 Undergraduate
A bachelor's degree is the minimum requirement to become an ocean engineer. If you do not attend a school with a specific ocean engineering major, you should obtain a degree in another area of engineering and add coursework in oceanography, computer science, and geoscience. Familiarity with underwater robotics, acoustics, and remotely operated vehicles is recommended.
Graduate
If your undergraduate degree was not specifically in ocean engineering, then a master's degree may be required to obtain a position in the field as well as for future advancement in the profession. Areas you should specialize in include acoustics, geophysics, computer science, and robotics. A doctoral degree is only necessary if you want to pursue a career in academia as a university professor.
10 Schools With Excellent Ocean Engineering Programs
Want to see the full list of colleges and universities with degree offerings or relevant courses?
See the full list


Tip 1
As very few schools have an ocean engineering major at the undergraduate level, look for schools that offer ocean engineering as a graduate course of study. Finding a school that offers oceanography studies will be a bonus.

Tip 2
Due to hazardous work conditions, this is not a career for the ill-prepared. Make sure you are well-versed in marine safety and firefighting procedures, as well as personal ocean survival techniques and ocean navigation.

Tip 3
Don't overlook the U.S. Naval Academy or Coast Guard Academy as academic options. While difficult to gain admittance, the education and training are first-rate, and you will be assured of a job in the military when you graduate.
Have familiarity with one or more of the
following areas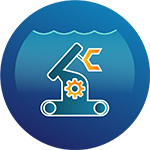 Underwater robotics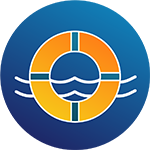 Survival at sea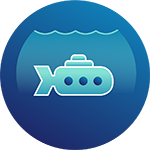 Submersible vehicles
Ship navigation
Seafloor mapping and visualization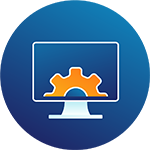 Computer-aided design and manufacturing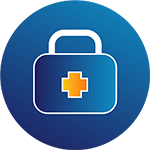 Medical first aid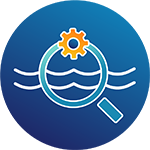 Wave mechanics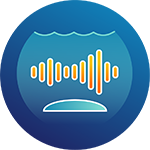 Underwater acoustics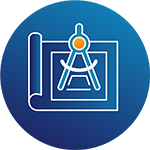 Technical drawings and blueprints
Typical Job Functions of an Ocean Engineer
Here are some of the interesting things you could be doing.
Assisting oceanographers with ocean studies and research.
Designing structures, equipment, and instruments that advance marine science.
Designing docks, piers, and harbors.
Designing underwater navigation and communication systems.
Developing unmanned underwater vehicles for deep-sea exploration.
Studying the effects of waves, currents, and saltwater on ships.
Designing floating ocean structures.
Implementing practices and creating structures to restore beaches.
Researching ways to extract energy from the ocean.
Innovating technical solutions to aid the restoration and preservation of ocean systems.
There's an Ocean of Possibilities
Ocean engineering is a great career path for someone who wants to create things that will safeguard people and protect coasts from the effects of increasingly severe and destructive storms. And given the vital need to find solutions to the impacts of climate change, future job prospects are very promising for ocean engineers. The hands-on nature of ocean engineering also makes it an excellent choice for anyone who wants to spend their career on or near the ocean.
Common employers include:
Federal Government Agencies
U.S. Environmental Protection Agency
National Oceanic and Atmospheric Administration
National Science Foundation
Bureau of Ocean Energy Management
State Government Agencies
Military
Army Corps of Engineers
U.S. Navy
U.S. Coast Guard
Private Industry
Engineering
Ocean Mapping
Ocean Technology
Mineral Extraction
Offshore Renewable Energy
Marine Consulting
Emerging Technology
Environmental Consulting
Marine Transportation
Oil and Natural Gas Exploration
Academia
Universities
Research Institutions
Start your career search with our extensive list of employment websites.